Gymi preparation online – with the Lern-Forum Zurich
Every year many Swiss students join our preparation courses for the gymi exam. At the Lern-Forum in Zurich, not only experienced teachers, but also constantly updated exercises and teaching materials await the participants.
In 2020 and 2021, however, preparing for the gymi examination will be somewhat more difficult than usual. Due to the situation we are all familiar with, it will not be possible this year to prepare the groups on site at the Lern-Forum for the upcoming exams in March.
But of course, we will not let you and your children down! With our online gymi preparation, we offer your children the opportunity to prepare for the central entrance examination in March, even in these complicated times. The online gymi preparation courses meet the same high standards as our regular gymi preparation courses and prepare your children optimally for the gymi exam. Therefore, we are pleased to offer you the opportunity to help your children prepare ideally for the gymi exam and the upcoming time at the gymnasium.
Ideal gymi preparation online - despite the current situation
The current situation poses challenges for all of us. Even your children have to live with restrictions at school and probably cannot learn as well or as much as usual. Therefore, additional preparations are currently more important than ever!
Although you also support your children when you learn together at home, you usually do not have the materials or the knowledge to do this comprehensively. But with the Lern-Forum Zurich you have found the ideal partner for effective gymi preparation online.
With the help of modern means of communication, we make it possible for your children to learn even over long distances. Our online gymnasium preparation course offers the following advantages:
Lessons in real time with qualified teachers
Lessons in small groups - everyone can see each other
With only one click the students are in the virtual classroom (no program download required, no login, no user account)
Each lesson is available on video (the lesson can be viewed again at any time)
The lessons take place at home
E-learning at Lern-Forum.ch is simple, safe and above all effective! Register your child for an e-learning course here.
Adapted learning concepts for gymnasium preparation online
At Lern-Forum Zurich we have adapted our proven learning concepts so that your children can use them digitally. Instead of our on-site lessons, there are live lessons on the computer, which differ only minimally in their implementation and structure from those in the classroom. This not only allows us to offer your children the appropriate lessons to prepare for the gymi exam, but also individual support - for example, participants of the gymi preparation have the opportunity to ask questions online at any time.
The lessons in the virtual classroom include both theory and practical tasks. Our experienced teachers use a digital whiteboard which is displayed on your child's screen. This allows your child to perfectly understand all solutions while our teachers provide additional explanations. In addition, your child receives individual videos for each math task and the essay corrections are done digitally. Furthermore, you as parents also have the option of ordering additional exercise material directly to your home to provide your children with additional preparation opportunities.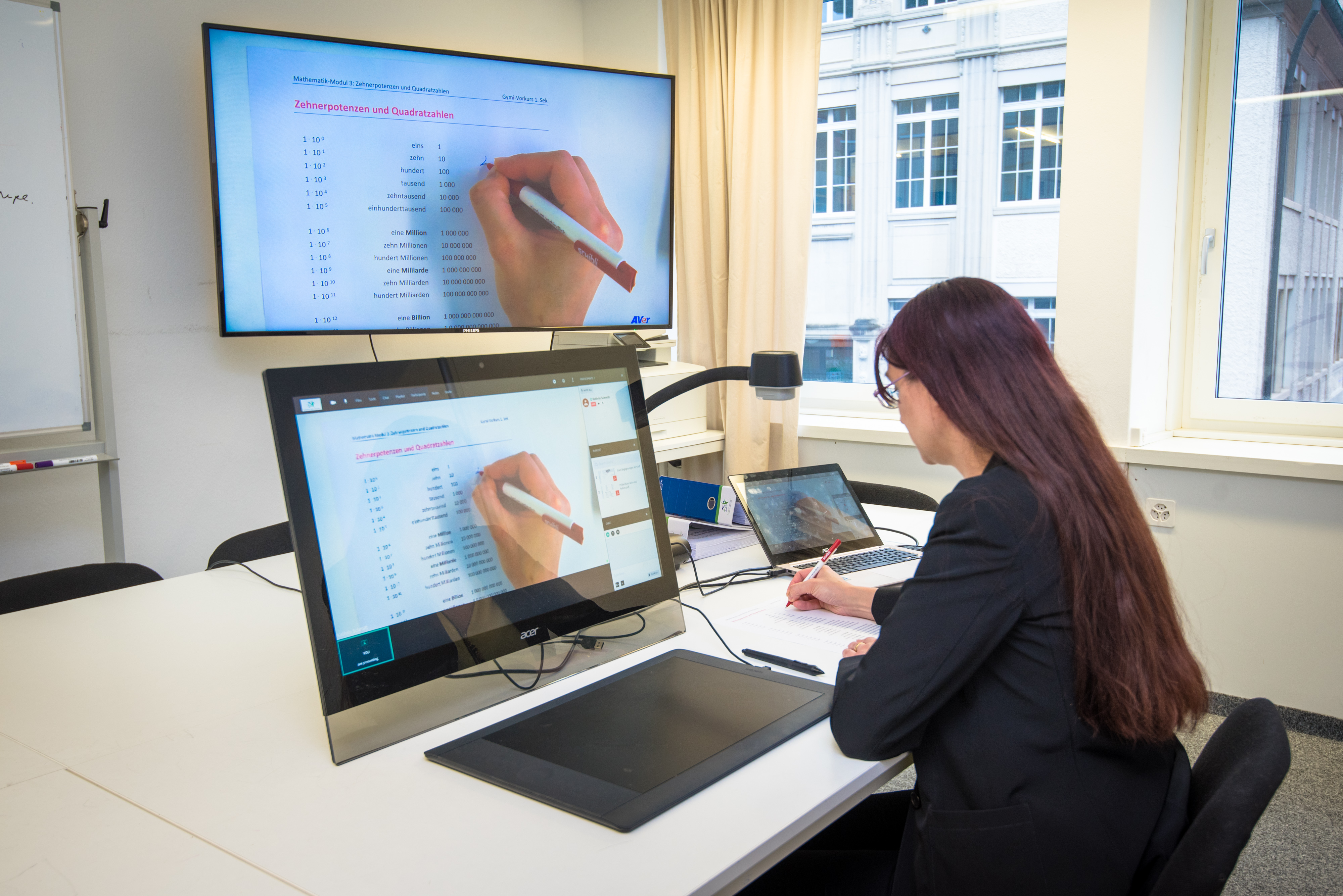 Explained with a visualizer just like on site.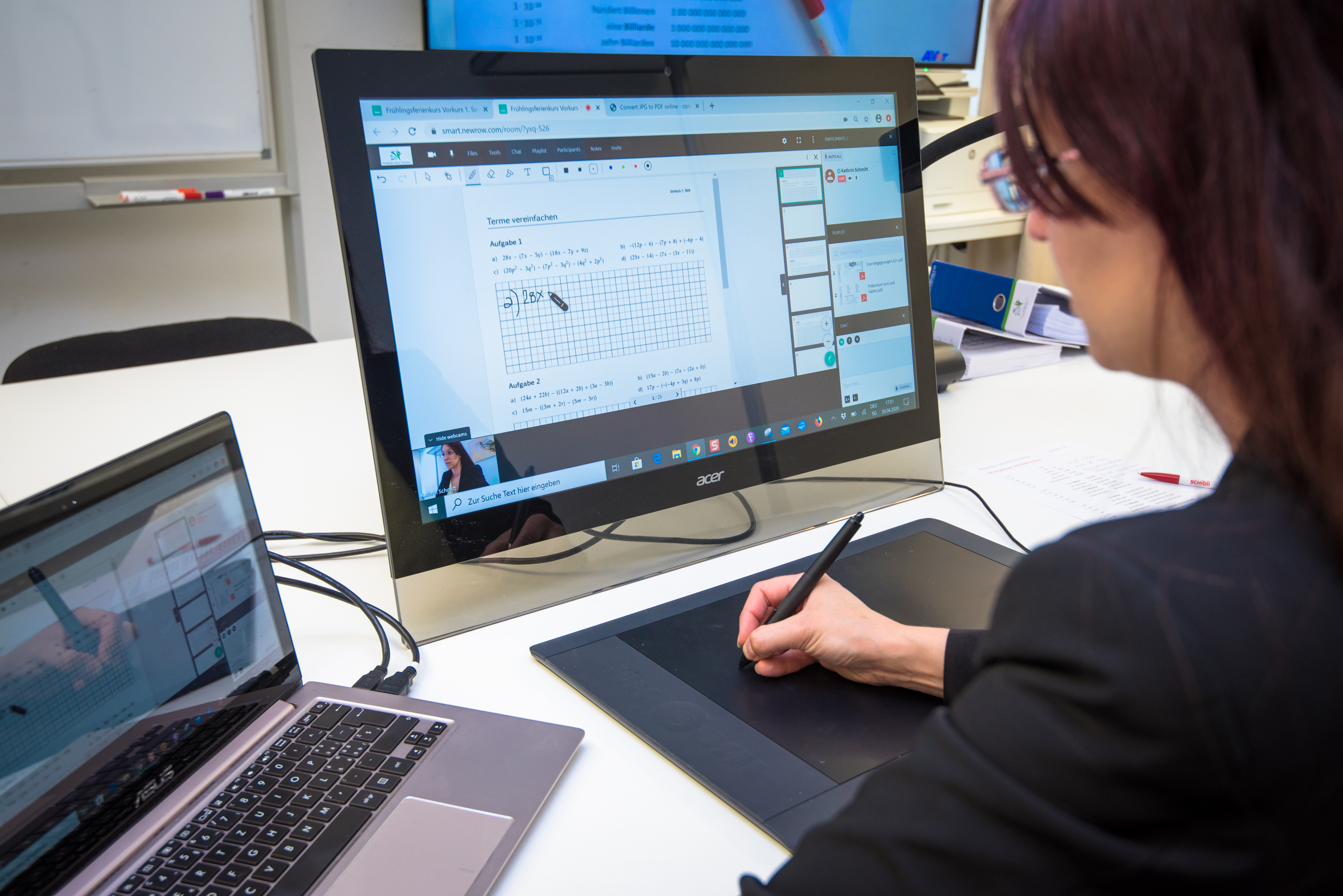 Whiteboard in the distance classroom:
just like on site
Course data E-Learning in the virtual classroom
Whiteboard
Advantages of distance lessons
Registration for e-learning courses
Wie funktioniert der Online-Kurs?
Nahezu wie in einem Klassenzimmer.
Die Schülerinnen und Schüler erhalten einen Link per E-Mail – mit nur einem Klick sind sie dann im virtuellen Klassenzimmer.
Alle Schülerinnen und Schüler sehen einander und können miteinander sprechen.
Der Lehrer kann den Schülerinnen und Schülern bei Bedarf zusätzliche Unterrichtsmaterialien und zusätzliche Übungen zum Herunterladen zur Verfügung stellen.
Dann beginnt der Unterricht: Der Lehrer erklärt das Material und die SchülerInnen lösen die Übungen zu Hause auf Papier.
Vorteile des Fernunterrichts
Kein Anfahrtsweg
Bewährte Lern-Forum-Qualität
Lektionen in Echtzeit
Dokumententransfer zum Herunterladen
Als Video gespeicherte Lektionen zum erneuten Ansehen
Qualifizierte Lehrer
Ausgedruckter Kursordner zum Lösen der Aufgaben
Learning is now location independent
With e-learning, students can put the finishing touches on their exam preparation! They learn with the proven documents of the learning forum comfortably at home in front of the computer. The teachers explain the tasks to the students in an interactive virtual classroom. With our distance learning courses we prevent your child from falling behind due to school closure.
Now it is important to avoid gaps and at the same time prepare your child optimally for the 2021 Gymi Exam. The material of the 5th grade has to sit so that the basis for further preparation for the Gymi exam is laid.
Thanks to our distance courses, a seamless preparation for the entrance examination is guaranteed.
Exercises with videos
Comprehensive teaching in the virtual classroom:
All tasks with videos
Virtual classroom discussion
Individual support