Children and young people learn to handle the keyboard correctly so that they get used to writing correctly with 10 fingers at an early age. We pay attention to the correct posture and position of the fingers. The children regularly practice the 10-finger system at home.
The children's perception is also promoted. In keyboarding, the word "breaks down" into individual letters. You spell the word in front of you and thus learn to read the words accurately, which helps spelling. The best decision is to learn correct keyboarding from the beginning.
Keyboarding courses in the school year 2022 / 2023
Please do not call to inquire about available space; if the course is listed, it has space, and it will definitely run.
Certificate without course attendance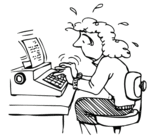 All information about the typing course.
Graduation with a KV-recognized diploma