Professional Essay Correction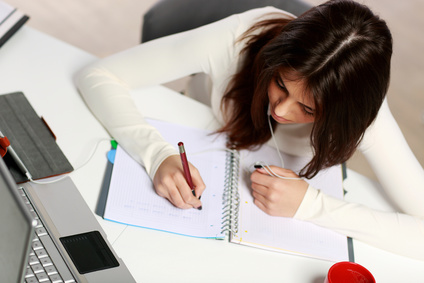 Removing stumbling blocks
We correct the essays according to the guidelines of the entrance examinations to the long-term or short-term gymnasium!
Essay composition is an important part of many of today's entrance exams. A good essay score is essential to passing the entrance exam for vocational school (BMS) and Gymnasium. Students at every level should be able to express themselves age-appropriately in writing and share their views, experiences, feelings and thoughts on paper. Essays not only put students' language development to the test, but also their mental maturity.
Unfortunately, writing is often neglected in school, and students are shocked to find that their essay received poor marks on the entrance exam and may even have caused them to fail the exam altogether.
It is important that students practice writing good essays as early as possible. Our essay tool now makes practice easy and convenient! Simply submit your essay to us and we will return the corrected version along with a detailed commentary to you by e-mail.
Important note about topics:
The student should write an essay about a specific topic. A descriptive title is a requirement for the text.
Do not upload any essay without listing the topic.
Always choose one of the provided topics; do not invent one yourself.
Only this way is it possible to assess the writing properly. The teachers evaluate the way the topic was applied and whether the question was fully answered.
Practice Makes Perfect
Essay Tool
Rédaction de texte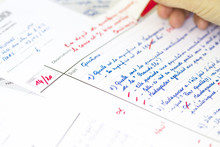 Practise, practise, practise
Practice makes perfect! If you want to write well, you must write often. Writing is not about memorisation but about working on techniques and trying new styles, developing language skills and getting a sense for what makes a good essay.
Students are often hesitant because they do not know what is expected of them.
How are essays marked? What does my score mean?
What do I need to pay special attention to when I write?
What should I avoid?
Have I followed the rules for essay structure?
All of these questions can be answered through our essay tool. Students can upload their essays to the website, where they will be corrected and marked by experienced specialists. Students will not only receive scores for their essays, but also detailed feedback about how these scores were reached. This will allow them to analyse their own strengths and weaknesses and discover what makes a good essay!
Better Essays – Step-by-Step
With our unique essay tool, students can learn how to write good essays step-by-step. After writing your practice essay at home, simply photograph or scan the essay and save it to your PC before uploading it to our website at any time. Our experienced staff will then mark the essay and send you the corrected version by e-mail. In addition, you will receive a detailed commentary that explains the evaluation criteria behind your marks – giving you valuable insights into how to write a good essay.
You can register for our essay tool for free. Once your child has written an essay, simply upload it. You only pay for the essays you would like us to correct. There are no fixed subscription costs. The correction of 1 essay costs CHF 55.--, or you can save by paying for 4 essays in advance at a cost of just CHF 210.--
Register today to upload your first essay!
Improve your language skills – anywhere! Upload your essay today:
Rédaction de texte
On the entrance exam for short-track Gymnasium, students must write a short essay in French. This makes many students nervous because they are not used to composing texts in French. They often make the mistake of translating German sentences into French. This is not only inelegant but also frequently wrong.
A French text must have specific syntax and appropriate phrasing. Writing correctly requires practice. Using our Essay Tool, your child can practise writing in French from the comfort of your own home.
Things to pay attention to:
Correct French word order
Demonstrating vocabulary
Use of correct tense
Word endings (feminine, plural etc.)
Common phrases (C'est magnifique!) and appropriate adjectives
Our detailed essay corrections
The Lern-Forum.ch is the leader when it comes to essay training.
Our specialized team of proofreaders writes detailed reports with concrete tips, corrections in spelling and stylistics. The assessment describes in particular whether the writing assignment has been fulfilled and the topic has been implemented correctly.
We recommend that you start your training early. It is best for your child to write an essay, have it corrected and then write another one, using the corrector's tips.