Probation period support & probation period preparation
Courses begin after the spring holiday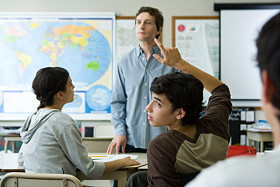 They've passed the entrance exam; now the probationary period begins.
Independent learners with the ability to focus and study have little trouble passing the probationary period.
For other students, this is when the stress begins. They find the subject teacher system difficult and are unable to keep up with the workload. They are now surrounded only by other top students.
For students in long Gymnasiums and secondary schools, we offer remedial courses in Latin, French, Mathematics and English during the autumn holiday.
We help your child to prepare optimally for the probationary period, so that they can be well equipped and start the new school level with a knowledge advantage.
Latin
French
Mathematics
English
---
French
French continues to be a major world language, and it is a national language here in Switzerland. This is why French is a major subject at school.
We study with the most modern teaching materials. The exercises are based carefully on the Envol system (Cours intensif).
Reading texts correctly
Text comprehension
Clear handling of grammar
Text composition (Rédaction)
---