Mathematics
High marks in mathematics are still seen as evidence of a quick mind and high intelligence. A good report is proof of above-average performance and opens doors to future success. Many companies prefer to employ people who are able to solve problems on their own initiative and can document their problem-solving methods. When choosing potential employees, companies tend to look for good marks in maths, which usually indicate determination, accuracy and independent thought.
Take the first step to success!
Join one of Lern-Forum's compact courses in mathematics to strengthen your maths skills in an efficient and practical manner.
Participation in a course is limited to a maximum of 8 students so that teachers can focus their attention on each individual.
We look forward to your registration!
Our mathematics courses:
Course Overview
Probation Gymnasium
Bridge course
Primary 5 mathematics
Matura maths
Video
Maths / Geometry
Week
Level
Times
Cost
(CHF)
Flyer

Summer holiday course

4th or 5th

Bridge course
Mathematics for Gymnasium

Exact times
are listed
on the
registration
page.

640.—

Summer holiday course

5th

Sec. A year 1/2

640.—

Summer holiday course

5th

End of primary year 5

640.—

Autumn holiday course

1st

Long-track Gymnasium year 1

640.—

Autumn holiday course
1st

Short-track Gymnasium year 1

640.—

Autumn holiday course

2nd

Secondary year 1

640.—

Spring holiday course
Summer holiday course

1st
4th /5th

Matura
Mathematics review

820.-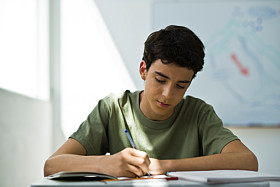 Langzeitgymnasium first year

Langzeitgymnasium math can be tough. Mathematical terms, algebra, complex thought processes as well as a fast learning pace can push some students to their limits. During the autumn holidays, we offer a course that focusses on repetition and further practice of additional math problems. This course features modern teaching methods emphasising efficiency over hours of practice.
Problem solving skills
Mathematics requires both skills in repetitive practice in order to gain speed as well as skills in mathematic problem solving (difficult complex problems that require cognitive skills and intelligence).
Kurzzeitgymnasium first year
Entrance exams are passed and now it's time for students to stand the test for the Kurzzeitgymnasium and get through the probationary period.
Many students have problems with the fast learning pace and systematic thought. Each mathematical step has to be proven before it can be utilised. Math is no longer boring practice.
The probationary period course for the Kurzzeitgymnasium comprises, on the one hand, mathematical skills such as binomials and complex fractions and, on the other hand, copying, thinking ahead and listening to other students' questions. The focus is on the systematic thinking in mathematics.
A comprehensive course binder with plenty of exercises covering the topics of the probationary period is included in the price.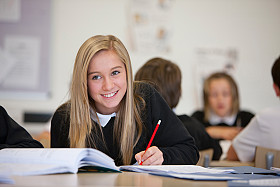 Mathematics pre-course
for Kurzzeitgymnasium / technical BMS
As the probationary period draws closer, students often fall prey to the fear of mathematics. Our course teaches students how to prepare properly for the exams and learn how to solve more complex problems. The course also includes comprehensive revision and consolidation of prior material. At the Lern-Forum we are always looking forward and prepare our students for the coming school period, so that they can more easily master the next step on the path to success.
Learning objective:
The main goal of this course is to provide students with a solid foundation of the material and for them to develop independent problem solving skills. Students learn confidence in the handling of complex terms, equations, fractions and binomials. Students also learn about the teachings methods of the Kurzzeitgymnasium / technical BMS.
The decisive year

Primary 6 is a crucial year; it is during this year that the decision is made which secondary stream the student moves into. The goal is to move into the highest possible stream, i.e. Langzeitgymnasium or secondary.
It has been proven that both enviroment and peers play an important role in the development of performance incentive and healthy ambition.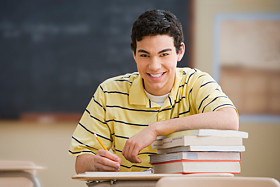 Preparation for the Matura
If you are about to do the Matura and want to put the finishing touches to your math skills, this is the course for you. The course is a professionally lead preparation course for the Matura especially designed to fill any holes in the mathematical knowledge required for the Matura.
The course for good Matura results - an important step towards a successful future.
Mathematics preparation courses for the Matura
Bridge course - Pre-course
Kurzzeitgymnasium / BMS
Catch up and gain confidence
Algebra
Compound fractions
Terms
Binomials
Equations
Geometry
Bridge course1st semester mathematics short-track Gymnasium
Secondary A, 1st year
Review of material
Algebra:
Number theory
Terms
Equations
Word problems
Simple statistics
Geometry:
Holiday and quarterly courses:
Solidifying the material
During the last holiday week, we offer group courses in
French(formal grammar, text comprehension, text production),
Math(by level: secondary/Gymnasium)
German (by level: primary 5/6, upper level)
Latin (Beginners)(long Gymnasium)
English(grammar, conversation, secondary A)
Spelling / Essay Writing(primary students)
All subjects can be booked individually. 2 hours daily per subject