Preparing to enter the district school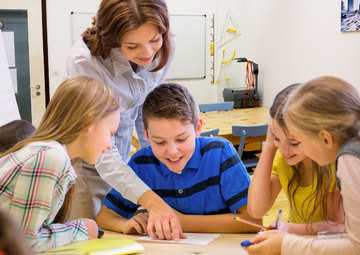 The path to the future starts early.
When students enter district school, all doors are open to them. They can later enter Gymnasium (Kantonschule) and get the Matura certificate. Entering the Bezirksschule is particularly important, because it is nearly impossible to transfer to Gymnasium from regular secondary school.
There is no entrance examination in the canton of Aargau. Transfer from the 6th year of primary to Bezirksschule or secondary school is determined solely by recommendation. In order to receive a recommendation from the teacher, a student must show consistently good performance. A high score on Check P5, which is given in the 2nd semester of the 5th year, is also important.
Thanks to our many years of experience, we can provide students with timely and professional support during this first step into their futures. We help students create a foundation of knowledge so they can start the Bezirksschule with confidence.
Prep courses Bez.-Sec.
Recommendation Process
Check P5
Requirements
Not recommended - What now?
Registration for Bez. / Sec. prep course
2. Wo Frühlingsferien
Check 5/6 Math/Deutsch
Starting date
19.04.22 - 23.04.22
Time
09:00 - 12:00
Location
Lern-Forum Wohlen
Level
5. Kl. Primar
Event
5
Days
Wegen Ostern Dienstag - Samstag
09:00 Uhr . 12:00 Uhr
Classroom
Zentralstr. 17 - 2. Stock
Teacher
--

back to list
Recommendation
During the second semester of the 5th year, the parents are required to attend a meeting with the teacher.
The teacher responsible for the secondary school recommendations will inform the parents about the progress of and opportunities for their child. They will also receive information about which type of secondary school the child is likely to attend in the future.
Enduring learning is more prominent than ever as a metric for the secondary school evaluation and recommendation process. Children can not longer rely on intensive revising for an entrance exam. They must have a consistently good performance in the 5th and 6th year of primary school.
One important factor for the evaluation of a child's performance ability is the Check P5.
Even if the meeting about your child hasn't gone as planned, it is not too late by any means! It is always possible to improve performance. Since 2017, secondary students who do particularly well in the core subjects have the opportunity to switch to Bez. at the end of their first semester without repeating any courses.
A new method of evaluating progress
Over the course of two weeks in September, the assessment tests Check P3 and Check P5 are held. The Checks are given to all 3rd and 5th year primary students in the cantons of Aargau, Basel-Landschaft, Basel-Stadt, and Solothurn. The didactical concept behind the Checks and more info about the quiestions can be found at www.check-dein-wissen.ch.
What are these test exactly, and how to they affect your child's education?
The Checks are standardised performance tests developed by a university institute that was hired by the Aargau, Basel-Landschaft, Basel-Stadt and Solothurn cantons. All students in these four cantons are given the Check tests at the beginning of their 3rd and 6th years of primary school and towards the end of their 2nd and 3rd years of secondary school (upper or lower level).
The Checks are an assessment tool. The enable performance and progress comparison across more than just a single class.
Primary students take the Check P3 (in their 3rd year) and P5 (in their 5th year). Both tests are given in paper form. In the Check P3, students are assessed in maths and German. The Check P5 covers maths, German, the first foreign language and the natural sciences.
One important factor for assessing performance ability is the Check P5. It shows the level each child has reached by the beginning of their 6th year. Those who do particularly well on the Check P5 have a better chance of being recommended for the Bezirksschule.
Entering Bez. - Requirements
There is no longer an entrance exam. Entry is based solely on the recommendation process.
The requirements for entering secondary or Bezirksschule have been raised slightly. Not only performance in the core subjects (maths, German and realities [Realien]) counts here. In order to enter Bezirksschule, students are now required to exhibit generally good marks in the supplementary subjects (French, English, PE, art, music, textiles and handicrafts) instead of simply passing marks.
Additionally, not only future Bezirksschule students but also future secondary students must distinguish themselves in terms of independence, problem-solving and comprehension skills.
Entry into the Bez. opens the door for Gymnasium. Secondary students have very little chance of entering Gymnasium later.
In our prep courses, we reliably prepare students to enter Bezirksschule.
Changing track in the upper level
Many parents become very anxious when their children do not make it into Bezirksschule after the end of 6th year, and must enter secondary school after the summer holiday. Now is not the time to give up! It is possible to change schools during the upper level! Since the 2016/2017 school year, the following new rules are have been in effect:
Students with especially good marks in the core subjects and a recommendation from the teacher may switch into the next higher school type (e.g. from Sec. into Bez.) after the first semester, without needing to repeat any courses.
As before, students may be recommended for the next higher school type at the end of the school year.
What does this mean?
It is important not to throw in the towel if the meeting with your child's 6th-year teacher does not go as desired. Au contraire! Investing in your child's education is more important than ever. Your child may be able to improve his or her school performance so markedly that he or she is in fact recommended for Bezirksschule. Or, you may be able to provide a solid foundation for switching from secondary to Bez. without losing time!